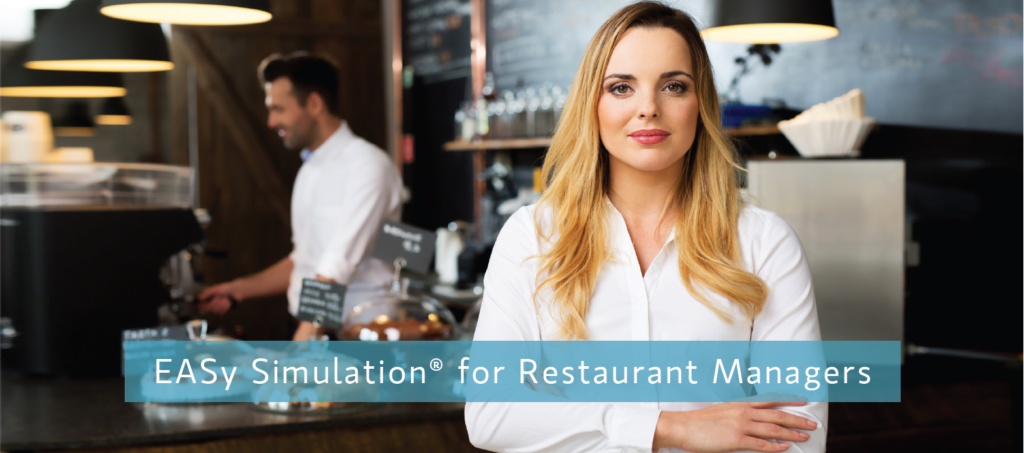 Restaurant operators can now call upon a powerful new resource – Employment Technologies' EASy Simulation® for Restaurant Managers – to identify and develop candidates best suited to lead teams and manage restaurant operations.
EASy Simulation for Restaurant Managers is scientifically designed to predict management potential and to chart a personalized path for ongoing development.
"It's easy to assume that anyone who has great people skills can be a successful restaurant manager. It may be tempting to simply promote a long-term employee instead of searching for the best candidate," points out Mary Ann Bucklan, Director of Research at Employment Technologies. "But in addition to excellent interpersonal skills, managers must be energetic multitaskers who can steer the ship decisively – yet also be able to slow down when necessary to focus on all the details that lead to high quality food and service. With our new simulation, restaurant operators now can quickly identify top candidates who possess the maturity and skills to handle these challenges on a daily basis, while empowering them to develop into strong, well-rounded managers."
EASy Simulation for Restaurant Managers immerses candidates in real-life work situations, like staff management and coaching, as well as the kind of realistic customer interactions they will encounter on the job. Based on award-winning technology, this simulation-based talent assessment is proven to identify top performers who are:
5 times more likely to communicate with clarity and enthusiasm.
4 times more likely to consistently exceed job requirements.
2 ½ times more likely to set clear team goals and generate enthusiasm around attaining them.
2 ½ times more likely to celebrate success with their teams.
Available on any smart device, EASy Simulation for Restaurant Managers is the ideal talent assessment to discover the leadership potential of future managers and to strengthen the skills of existing managers. To arrange a free demo, call 888.332.0648.
ADDITIONAL RESOURCES
EASy Simulation for Restaurant Managers is the capstone of Employment Technologies' Hire Confidence® Solution for Restaurants that includes simulations for hourly jobs, retention indexes, and virtual interviews – designed specifically for today's demanding restaurant jobs. Click here to learn more.