Sleep Outfitters

Taking a Scientific Approach to Hiring, Sleep Outfitters Cuts Turnover by 44%
Can you imagine the hiring challenge when your goal is to be the nation's leading sleep solutions provider? Individual preferences for a good night's sleep are wide ranging and deeply personal, and at times elusive.
That's why Sleep Outfitters doesn't hire salespeople. They hire Outfitters. Instead of pushing product, each Outfitter is specially trained to consult with guests to discover their unique sleep cycles and preferences in order to recommend the best sleep solution possible.
CHALLENGE
With this personalized, scientific approach to meeting customers' needs, Sleep Outfitters desired a similar approach for hiring. "We had a screening system in place, yet we wanted something more grounded in science that addressed the skill set we needed, also something with data to prove its effectiveness," explains Shawn Kaplan, VP of Human Resources.
SOLUTION
The company turned to Employment Technologies' proven EASy Simulation® Virtual Customer – Sales. This highly engaging job simulation immerses candidates in realistic customer interactions where they must prove their ability to discover customer needs and match the best products and services to meet those needs. "We had current Outfitters take the simulation," notes Kaplan. "We know them well and could see that the results from the simulation were consistent with what we knew about them."
RESULTS
By adding Virtual Customer to their hiring process, Sleep Outfitters saw a sharp reduction in turnover. "There is always turnover in retail sales; the going rate is about 50%," observes Kaplan. "Prior to working with Employment Technologies, we were tracking that 50% figure on average. After hiring with the Virtual Customer simulation, that number dropped to 28%. We also saw a performance difference in that we were actually hiring the right people for the job."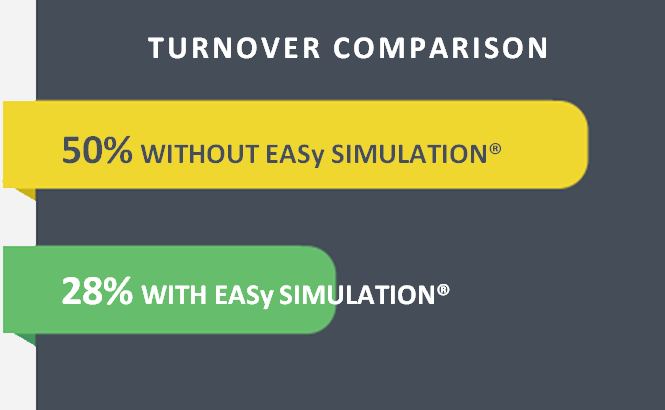 "The personalized onboarding reports are also a plus for us. We conduct regional training, so we want to make good use of our time. We use the results from the simulation to target certain skills."
Sleep Outfitters appreciates the flexibility in working with Employment Technologies. "They are very responsive to our growth and changing circumstances which reflects more of a relationship than a transaction," states Kaplan. "They are invested in our success."
Engage, hire, and retain top-performing sales professionals.  Click to learn more.