POWERFUL INSIGHTS IN MINUTES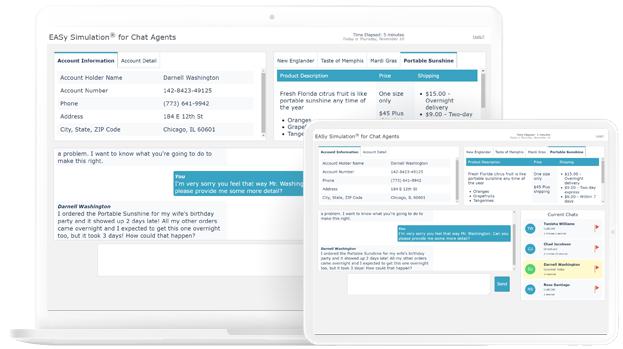 EASy Simulation for Chat Agents gives you everything you need to engage talented live-chat agents – whether you're hiring new talent or developing the skills of existing agents.
Assess.  Candidates can complete the simulation anytime, anywhere – on any smart device! Simply send them an invitation link or post to a job board.
Select.  You get instant access to candidate results on your own custom dashboard – where you can review, compare, and select the absolute best!
Onboard.  Your new hires will hit the ground running . From Day 1, you'll have unique insights into their skill strengths and development needs.
WHAT MAKES OUR CHAT SIMULATION UNIQUE?
Other assessments only scratch the surface of what's required to excel in this increasingly critical role. Typically, these tests assess only basic tasks like retyping an already scripted message, providing fill-in-the-blank answers, or selecting chat responses from a list of prewritten options.
Only EASy Simulation for Chat Agents replicates the chat role, letting candidates experience every aspect of the job. Your candidates will prove their ability to manage time, show professionalism, think on their feet, and write clear and accurate responses to quickly resolve customer issues.
BENEFITS AT A GLANCE
Predict chat agent success with scientific precision.
Create realistic job expectations for improved job readiness and retention.
Leverage multiple benefits for hiring and onboarding.
Eliminate "fake" answers – candidate responses reflect actual performance.
Deliver a consistent, fair and legally defensible process.
Impact bottom line results by boosting agent productivity and retention.
WHAT THE SIMULATION MEASURES
Based on a thorough job analysis, EASy Simulation for Chat Agents measures the key attributes directly tied to job success:
Message Content
Providing clear, concise, and accurate information that addresses customer needs, communicating effectively in writing, and maintaining an appropriate demeanor.
Efficiency
Managing several simultaneous communications while maintaining focus on each customer, fostering customer engagement, and smoothly transitioning between chats.
Speed
Average time per chat.